The CUNY HSE Curriculum Framework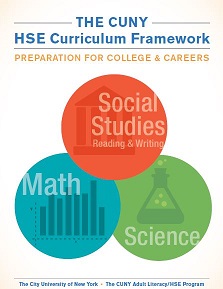 To support teachers who are using the
CUNY HSE Curriculum Framework
in their classes, we are developing a list of supplemental activities and resources. Our hope is that this list will continue to grow. These resources can help extend the units in the framework as well as provide additional support and practice to students wherever they need it. They are also a way to keep things fresh and give teachers more flexibility.
We recommend teachers start by reading the unit descriptions in the framework. That will keep the content focus of the framework coherent.
If you use any of these activities with your students, let us know how it goes in the comment box under each resource description. Please tell us if you have found other effective materials to supplement your work with the CUNY HSE Curriculum Framework.
Contact us
through the site or on Twitter at
@CollectEdNY
.
Supplementary Materials by Subject